Since buying our townhouse nearly 2 years ago, husband and I have come to the conclusion that the work we want to do on it is truly never-ending. The unfortunate part right now is that while husband is unemployed, he has all the time in the world to work on home improvements, but we don't have the money to fund them - the ultimate catch 22. In the meantime, we're settling for the little things that are affordable without the financial burden of, say, granite counter tops for the kitchen.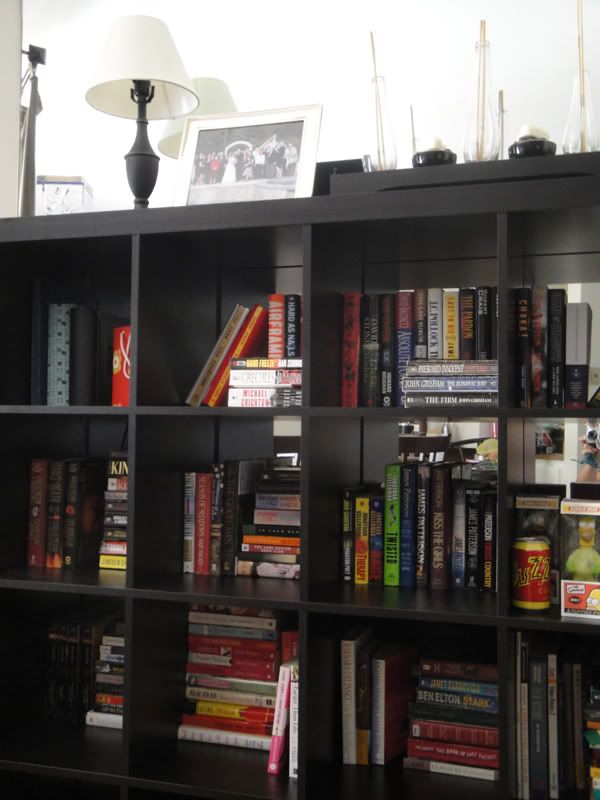 The most recent upgrade was our living room bookshelf. We previously had an old, totally dilapidated bookshelf gifted to us by husband's step-dad. I'm thinking this thing might have be older than I am. Our sizable book collection was wedged onto it, double stacked, with the risk that removal of a book would result in a literary avalanche. IKEA was nice enough to reduce their pricing on
this
bookshelf, so last weekend we made the purchase and got handy with the hex-wrench. We found a nice spot for it, in front of the large wall mirror, and even sorted our book collection into each cube by theme and author (yes, mildly obsessive I know). It happily swallowed the books, even leaving lots of space for us to put pictures of family and other knick-knacks that haven't yet found a proper home. We're really happy with how it looks including the cool effect of having the mirror behind it.
It may not be much, but it's amazing how the smallest things can completely change the look of a room. Now, what to do next on our home improvement journey?