As you may recall, I've been trying to get my butt in shape and back to making progress after a brief stint a couple of months ago where I was totally heading in the wrong direction (as in outwards). I've been trying to find alternative ways to entertain myself while on this quest as a means of keeping myself interested, and motivated of course. I live in a suburban area in L.A. County and in between the busier main streets littered with shops, restaurants and large apartment/condo complexes, there are tons of little residential pockets with cute houses and beautiful yards. That means areas that are easy to take a walk through without the fear of getting run over! Today I decided to walk in a big circle through the neighborhood, taking my little camera with me to document my trip.
Valley College is near by and right now most of the students are enjoying summer break. Personally? I'm enjoying the lack of traffic on the streets.
L.A. is riddled with these little alleyways behind buildings on main streets. I love them as they provide a wonderfully sneaky way to get around town. As you can see, the sky is gray - uncharacteristically so for July in Southern California. Having said that, it reminded me of home (England) where walking about with a light drizzle isn't unusual.
I have always found this plant striking, despite having no clue what it is - nobody's ever accused me of having a green thumb, that's for sure. From a distance, you can't even tell that each of the tiny flowers are like little petals, creating a bigger and even more beautiful flower when clustered together.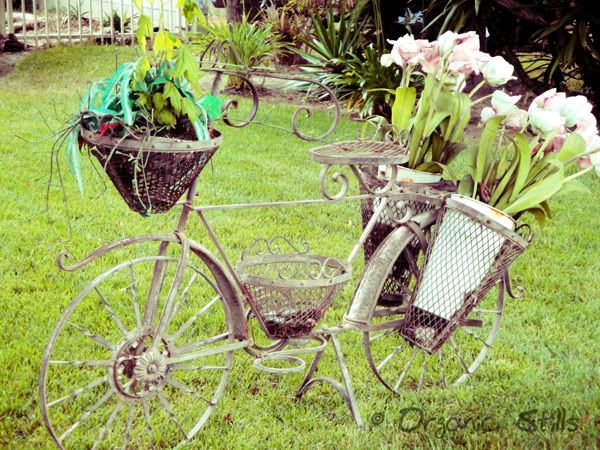 I had to snap a photo of this, which was in somebody's front yard (hopefully they weren't concerned about the weird girl on the curb taking photos of their stuff at 8 in the morning! It find it simply charming as I can only imagine that the flowers in the baskets also came from somewhere in their yard. A lovely way to display them.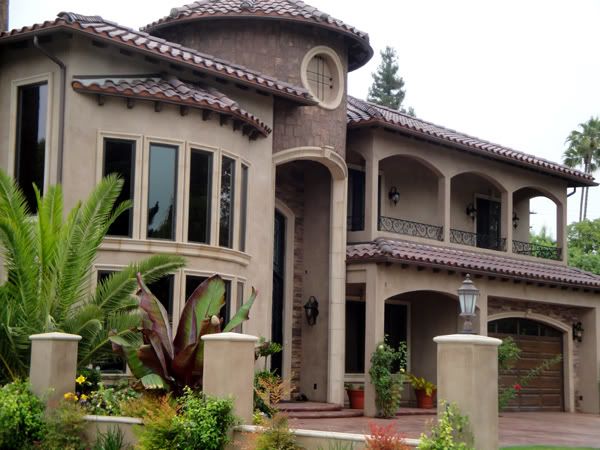 Pretty much across the street there is some new construction for sale. Many of the homes in my area are older, ranch style houses. The new houses that they have been building are quite impressive in design and really stand out as so different from what's already there. I hadn't seen this one before but I like it and think I might have to add it to my wish list of "stuff I can't afford".
Of the walks I've taken so far, I think I enjoyed this one the most. Having my camera with me made it almost like an exploration of what photo worthy things I could find on my travels. I just may have to make this a more regular venture into the suburban wild!