I've been in serious need of organizing my craft room, which is also the guest bedroom, and may even have a child in it some time in the future. The book shelves in there are overflowing with yarn, notions, vintage items, books, sewing patterns and who knows what else (still working on that part). Needless to say, if I didn't buy another crafting supply for the next year and just worked with what I have, I might be able to make a small dent. It's a classic case of too many ideas, not enough time, and when the hell did I accumulate all this stuff anyway?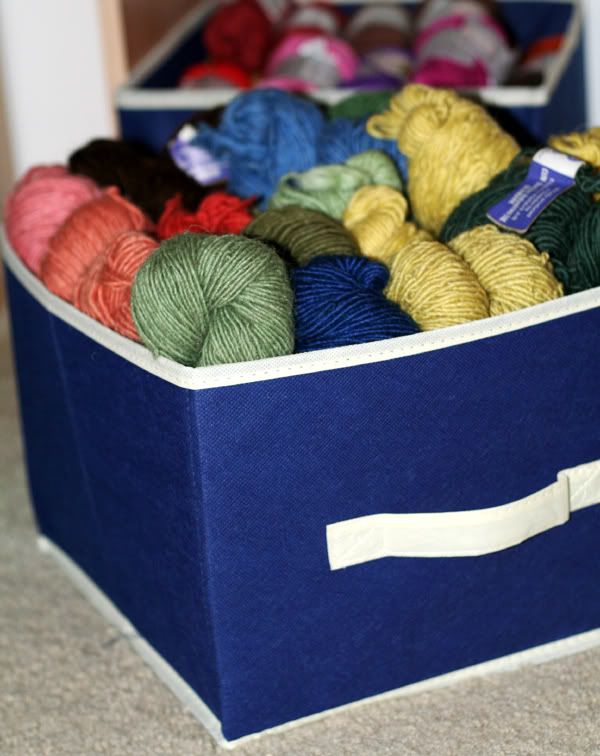 While most of this weekend was spent inside trying to stay out of the obnoxiously oppressive weather, compounded by the need to recuperate from my illness, I did venture out of the house to the store on Sunday. My trip to
99 Cents Only
was primarily for the fact that they have cheap produce that's perfect for salads - i.e. bag of spinach and two huge bell peppers for a buck each. I should note, however, that I cannot walk into that place without the compulsion to wander through all of the aisles taking a look at what other deals they have in store that week. I was excited to find these collapsible storage totes for a dollar each. I figured they'd be proper storage of all the things on my bookshelves in that room, but I never guessed that each shelf would hold exactly 2 side-by-side and these might just be the most perfect solution for the best price. In fact, I think I'm going to go back and buy some more tonight because now the bookshelves are mostly organized, I think they'll be helpful for inside the closet as well.
There's a reason that so often I will go there with the need for 2 things and $20 later, I escape! It's not just me right? What's been your favorite dollar store find?