I've always been very fortunate to have a craft room at my disposal. Technically, it's our guest bedroom, but our overnight guests are few and far between, which means I've had the liberty to literally leave my crafts all over the place. It's my little crafty space and I have spent many hours in there cutting bits of fabric, photographing my wares, trying new things - all the while being observed by Deuce kitty who likes to either watch my work, steal things, or stare wistfully out the window.
A couple of years ago, the first Christmas after we bought the house (and before I'd fully taken possession of that room), my parents were staying with us. As it turns out, my dad was woken up Christmas morning by the gentle, but consistent, "plink plink" splashing of a leak on his head. It had been raining heavily overnight and water was leaking in through the window at a pretty decent pace. The HOA management company that we had at the time were basically a bunch of morons (which is being polite) and while the leak was fixed, the internal patching was never done. Fast forward a couple of years and we're finally getting the work done - yay!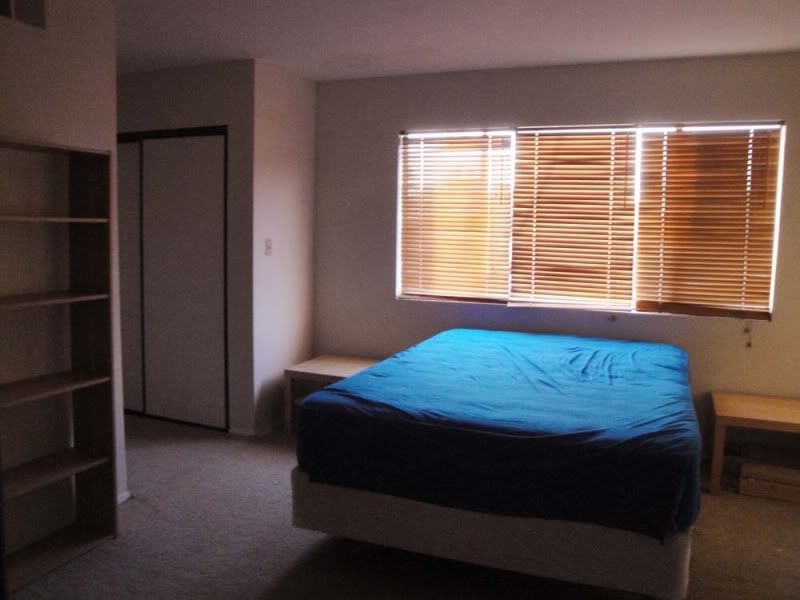 During the summer, this room turns the most amazing colors at sunset - illuminated by a magical orange glow from between the nasty, brown, ghetto-ass blinds. I'm SO excited that we're going to get rid of the blinds that I've hated since day one (but we never bothered to do anything about). I'll be making some nice curtain panels instead. We're also going to have a small redesign in terms of how the furniture is laid out to optimize open space in the room and hopefully my sewing machine table won't be wedged in so that I'm hiding behind the door. I think I'll finally be framing my limited edition Bugs Bunny artwork too as this will be where it resides!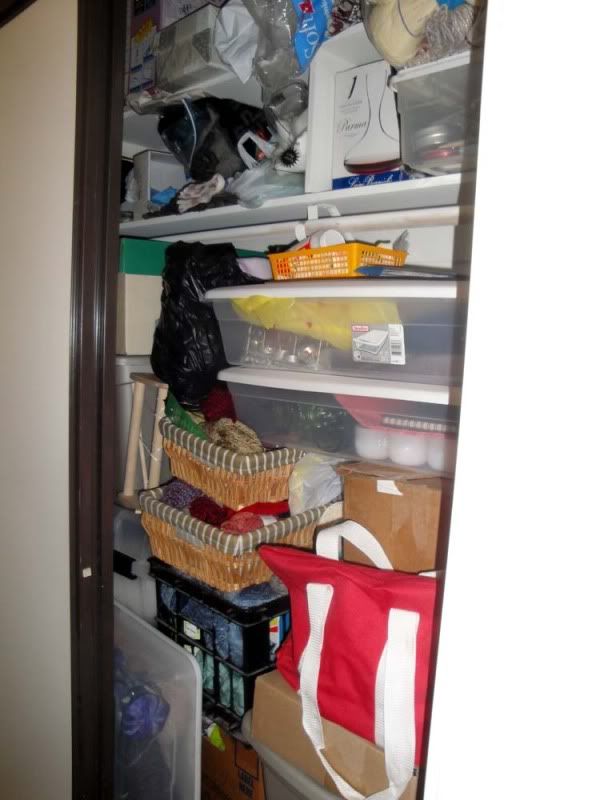 No, I do not have too many craft
supplies wedged into this space!
The problem of course is that my crafts, so hap-hazardously strewn about, had to be packed away neatly seeing as a chunk of the ceiling is being redone and I do not need ceiling dust all over everything. So, that was my weekend. I diligently filled storage totes, boxes and suitcases to be stacked away in the closet. I started off with the best of organized intentions, which about 75% of the way through turned into "I don't care, as long as I can fit it in the damn box and still close the lid". I found various things that I'd forgotten I have, discovered that my fabric stash is way bigger than anticipated, and still have no idea what happened to the grab bag of zippers that I bought at the thrift store.
Construction can be stressful, but I'm hoping this is quick and [mostly] painless. I'm so excited to transform this room into something much more special and try to be better about not leaving my Hansel & Gretel craft trail about the place!