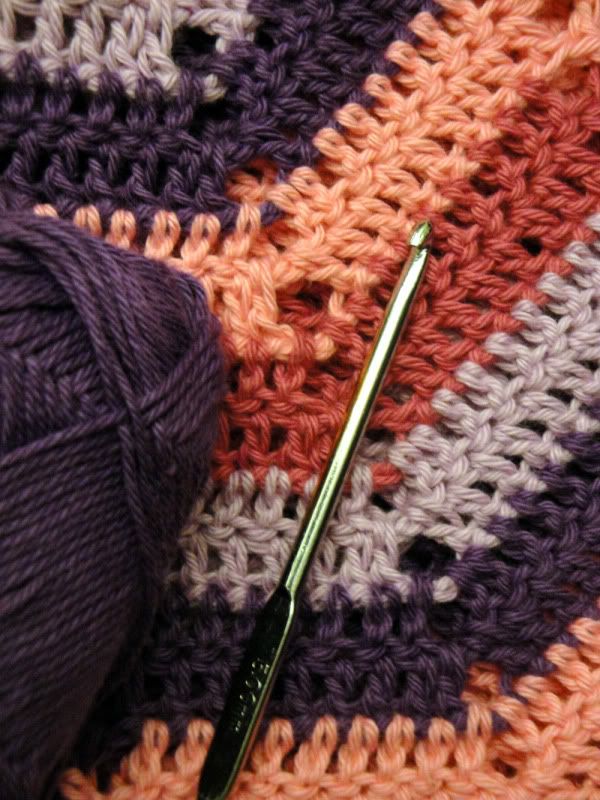 Months ago, I got a total steal at the local thrift store involving 5 bags of yarn with a retail value of probably $400+, for the bargain price of $30. One of those bags had about 40 balls of fingering weight cotton yarn in about 16 different colors. I can only assume that at some point, somebody bought them intending to make a gigantic blanket of some kind, then concluded that making a blanket like that in fingering weight yarn would be sheer insanity.
The yarn has been sitting there just asking me to do something awesome with it and I recently decided to make a blanket with it, as I believe was originally intended, using
this
pattern. I'm making it baby blanket sized instead of full sized (hey, somebody I know is bound to have a baby girl sometime!) and it has to be said that my initial trepidation that it would still take
forever
with such thin yarn is gone. I'm already a quarter way into it and really happy with how it's turning out.
I'm only using 4 of the 16 colors that I have so once I'm done with this one, I'm wondering if I should make an adult sized blanket with the rest of it. I'm thinking I'll stick with crochet because it'll be so much faster than knitting it on tiny needles. Getting through it quicker will also help prevent the WIP (work in progress) hibernation factor - like the sweater that's been sitting in the closet, on the needles, half finished, for 18 months now. If you have a favorite crochet blanket pattern, please share as I'm open to suggestions!